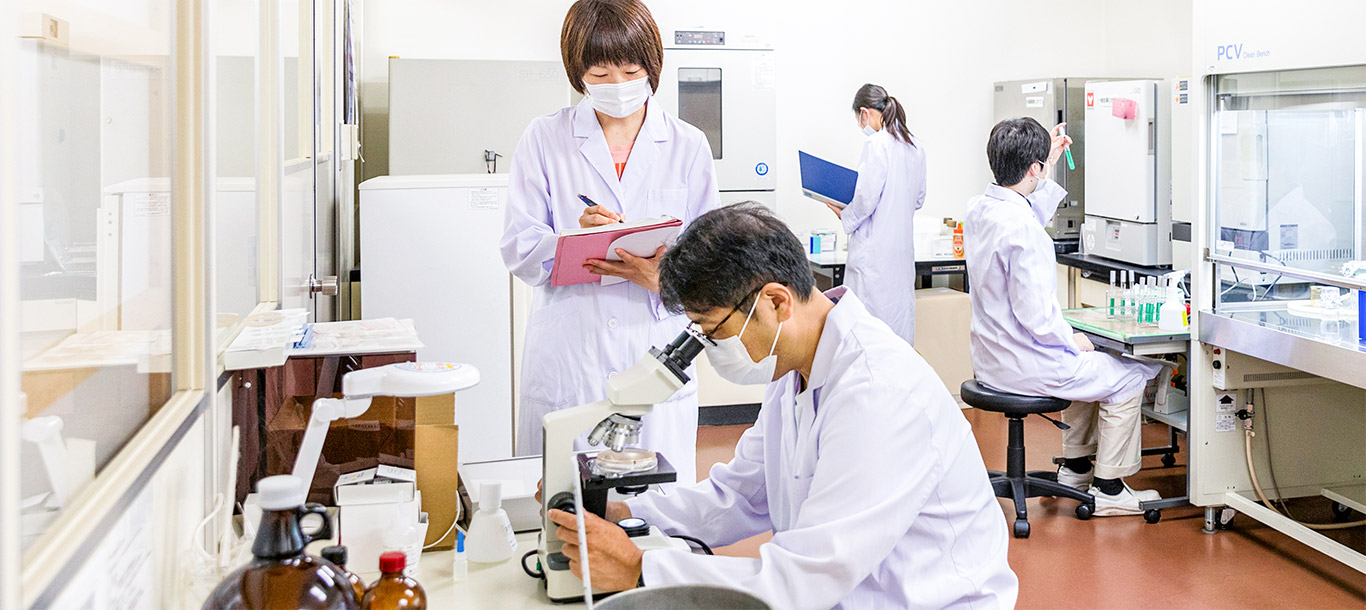 Efforts for safety and security
03
Quality inspection
hygiene management
"Do not put in defective products",
To "do not make" and "do not put out".
Testing of raw materials and products
The quality control department conducts various tests from the acceptance of raw materials to the shipment of products, and carries out thorough control so that defective products are not put into the factory, defective products are not made at the factory, and they are not put out.
All raw materials used in the factory by making full use of instrument analysis such as HPLC (High Performance Liquid Chromatography), GC-MS (Gas Chromatography Mass Spectrometer), AAS (Atomic Absorption Spectrophotometer), microbiological test, and sensory test. We carry out quality checks in-house, and we also carry out rigorous inspections of our products to see if they meet the set standards.
Maintain analysis accuracy through careful maintenance and inspection
In order to maintain the accuracy of analytical equipment, its management system is also important.Ito Hanpo Pharmaceutical regularly requests equipment inspections, scales, and sensors to be calibrated by an external specialized institution, and has a thorough maintenance system such as monthly periodic inspections and daily inspections before use to improve analysis accuracy. We are working to maintain.
Manufacturing control
Efforts for safety in collaboration with the manufacturing department.
Each factory is enthusiastically working on 5S activities and general hygiene management.
Each of these activities is not so difficult, such as tidying up, washing hands, managing equipment / equipment, and insect repellent and rat prevention, but it is not easy to keep everything in order.
In the quality control department, we carry out activities to maintain the hygiene environment by visiting the site, instruct employees to wash their hands, and hold study sessions to aim for more advanced hygiene management, and strive to make products in which the quality control department and the manufacturing department are integrated. I am.
Quality inspection
Safety and security for our customers
To provide.
Some of the inquiries and consultations that customers make to the Quality Assurance Office may require analysis.In such cases, we perform analysis using FT-IR (Fourier Transform Infrared Spectrophotometer) and a microscope, and cooperate with a third-party organization to establish a perfect system.